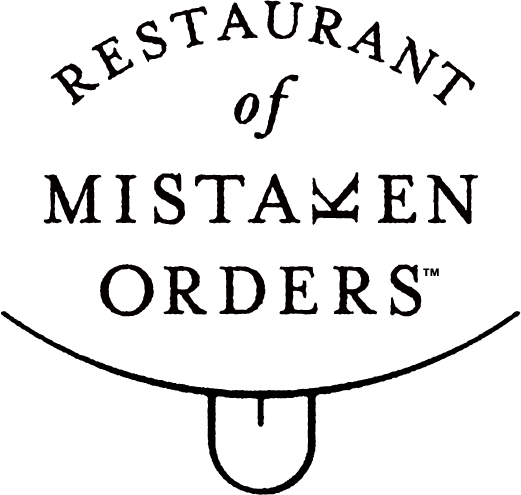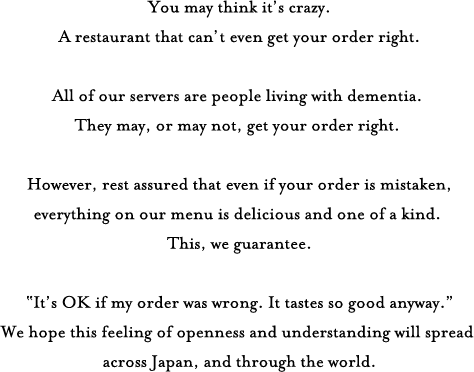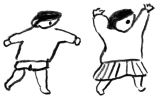 To spread dementia awareness and to make society just that little bit more open minded and relaxed.
‍
That is our aim, and we need your support.
‍
All spending records of donations will be made public to ensure that you know exactly where your hard earned cash is going.
‍
We ask for your continued support of The Restaurant of Order Mistakes.
‍
Please click on link below for more details.


We held a pre-opening event.
It doubled as training for our servers and staff.
A tweet by one of the visitors, made our restaurant go viral online.
June 2017


Using funds from crowdfunding, the first Restaurant of Mistaken Orders
official launch was held at "RANDY" , a restaurant in the Roppongi area of Tokyo.
Media from Japan and overseas came to cover
this unique and inspiring initiative.
September 2017


We opened a limited period "Cafe of Mistaken Orders"
in collaboration with the Machida city municipal government.
September 2017


A Restaurant of Mistaken Orders event was held at Toraya Confectioners in Shizuoka, Japan.
Local dementia patients worked the restaurant oor for us for this one day event. Many local visitors,
and visitors from afar enjoyed the experience and food on offer. May 2018



We are getting more and more queries from local government,
private enterprise and individuals with requests to collaborate.
Are you interested too? Do you want to start a Restaurant of Mistaken Orders yourself?
Do you want to participate and help out, or simply learn more about the project?
Please feel free to contact us with any requests,
queries or simply to share your thoughts and comments with us.


Company Name : The Restaurant of Mistaken Orders General Incorporated Association
Address     : 〒116-0012
           Tokyo-to, Arakawa-ku, Higashi Oku 1-1-4 5th Floor
Representatives : Yukio Wada( Director)
           Yoshinori Kobayashi
           Satoshi Chikayama
           Satoshi Okada
           Noriyoshi Minowa
           Shiro Oguni
           Takeshi Wada
Copyright © 2017-2018 RESTAURANT OF MISTAKEN ORDERS All Rights Reserved.